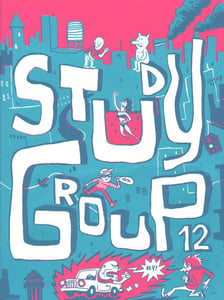 $

20.00
The new evolution of the Ignatz Award-winning comics anthology STUDYGROUP12 is a lavish, handmade package with silkscreened covers & offset interiors and some of the best talent the comics industry has to offer!
The 9x12" album sized SG12 is "perfect-bound" with a fancy spine and everything.
here's what the "offical press release" had to say:
In the six years since issue three, editor Zack Soto focused on his own comics, including THE SECRET VOICE for Adhouse Books, moved to Portland, OR, and helped run local comics/art hub PONY CLUB GALLERY. During his tenure with the gallery, Soto curated several monthly group shows and met dozens of artists working in the Portland comics and art scene. Shortly after leaving the gallery to pursue comics full-time, that old anthology itch came back. Thus, we have STUDYGROUP12 #4, a mixture of some of the best Pacific Northwest artists and other great cartoonists from around North America.
Zack has teamed up with Jason Leivian of Floating World Comics to publish this incarnation of SG12, with interiors printed by Eberhardt Press. The series has evolved from issue to issue, changing format each time in a natural evolution of craft and intention. They have come saddle-stitched, perfect-bound by hand, and coil-bound with chipboard covers -- but always with silkscreened covers and photocopied interiors. This issue is another step forward -- the interiors will be offset-printed in a blue Pantone ink on cream paper along with a two-color section and perfect-bound into hand-pulled silkscreened covers, in a limited edition of 500 copies.
Contributing to this issue:
TREVOR ALIXOPULOS - http://www.hautejunk.blogspot.com/
T EDWARD BAK - http://antizerogravity.blogspot.com/
CHRIS CILLA - http://ccillaswamp.blogspot.com/
MAX CLOTFELTER - http://maxclotfelter.blogspot.com/
FAREL DALRYMPLE - http://www.fareldalrymple.com/
ELEANOR DAVIS - http://www.doing-fine.com/
VANESSA DAVIS - http://www.spanielrage.com/
MICHAEL DEFORGE - http://kingtrash.com/
THEO ELLSWORTH - http://thoughtcloudfactory.com/
JASON FISHER - http://www.studiojfish.com/
NICK GAZIN - http://skeleteen.livejournal.com/
RICHARD HAHN - http://www.lumakick.com/
LEVON JIHANIAN - http://www.levonjihanian.com/
AIDAN KOCH - http://www.aidankoch.com/
AMY KUTTAB - http://www.amykuttab.blogspot.com/
BLAISE LARMEE - http://blaiselarmee.tumblr.com/
COREY LEWIS - http://www.reyyy.com/
KIYOSHI NAKAZAWA - http://www.luckynakazawa.com/
TOM NEELY - http://www.iwilldestroyyou.com/
JENNIFER PARKS - http://jenniferparks.blogspot.com/
KARN PIANA - http://www.karnpiana.com/
JIM RUGG - http://jimrugg.blogspot.com/
TIM ROOT - crappycomics [!at] yahoo.com
ZACK SOTO - http://www.zacksoto.com/
IAN SUNDAHL - http://turbooverdrive.angelfire.com/
JON VERMILYEA - http://www.jonvermilyea.com/
ANGIE WANG - http://www.wangie.com/
STEVE WEISSMAN - http://sweetchubby.blogspot.com/
DAN ZETTWOCH - http://zettwoch.blogspot.com/