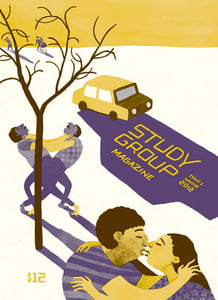 $

12.00
The long-running Studygroup12 anthology has mutated once again. Now known as Study Group Magazine, it's a hybrid magazine of cartooning excellence and comics journalism. Printed in vivid two-tone throughout and co-edited by series creator Zack Soto and former Comics Journal editor Milo George, our 64-page oversized debut is a thing of fucking beauty.
Featuring comics and art by:
TREVOR ALIXOPULOS (Hot Breath of War, Mine Tonight)
CHRIS CILLA (The Heavy Hand, Kramers Ergot)
MICHAEL DEFORGE (Lose, Thickness)
DAVID KING (Lemon Styles, Crime World)
AIDAN KOCH (The Whale, Astral Talk)
JONNY NEGRON (Chameleon, VICE Comics)
JENNIFER PARKS (The Lone Wolf, Studygroup12)
ZACK SOTO (The Secret Voice, Ghost Attack)
DARIA TESSLER (Elf World)
MALACHI WARD (Expansion, MOME)
With the features:
BRECHT EVENS profiled by Greice Schneider (The Comics Grid)
ELEANOR DAVIS interviewed by Zack Soto (Studygroup12)
And a monster interview with CRAIG THOMPSON by Milo George (TCJ Library)
DIMENSIONS: 8.5"x11.5"